We will be back to serve you real soon!
In line with the announcement by the government, we are glad to announce that we will be reopening on the 8th of May 2020.
While we resume operations, we will be taking extra precautions to ensure the safety of everyone at our center, especially our clients.Therefore, Visiokraft Optometrist have come up with a set of safety measures in line with the SOP given by the Ministry of Health, while providing you eye-care services in this sensitive time.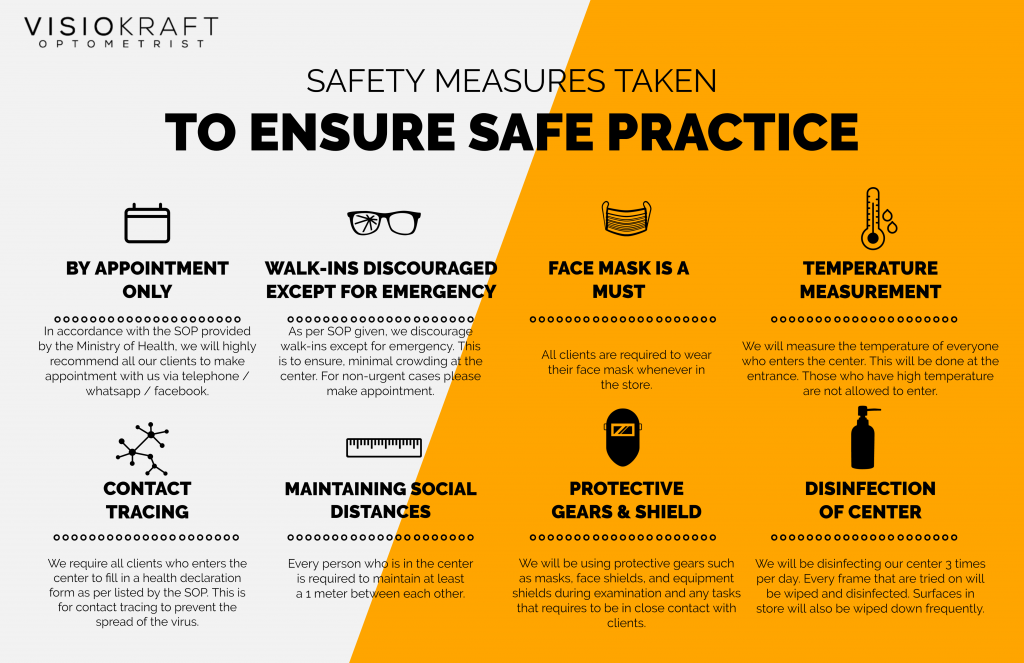 Here are some of the safety measures that we will take in the coming months:
1.) Appointment System
In accordance with the SOP provided by the Ministry of Health, we will highly recommend all our clients to make appointment with us. This will ensure there will be control flow into the center. To make an appointment you can use the link:

Appointment Link: [click here]
FB Messenger: [click here]
Telephone call: +604-2934938
Whatsapp: [click here] or [here]
2.) Walk-ins are discouraged except for emergency
As per SOP given, we discourage walk-ins except for emergency. This is to ensure, minimal crowding at the center. For non-urgent cases please make appointment. It's best if you can just notify us before you drop by, so we can plan ahead and provide you with service in the safest possible way.
3.) Face Mask is a Must
All clients are required to wear their face mask whenever in the store. This is to prevent and control the spread of the covid-19 disease.
4.) Temperature Measurement
We will measure the temperature of everyone who enters the center. This will be done at the entrance. Those who have high temperature are not allowed to enter and advice to report to the nearest hospital if they experience flu-like symptoms
5.) Contact Tracing
We require all clients who enters the center to fill in a health declaration form as per listed by the SOP. This is for contact tracing to prevent the spread of the virus.
6.) Maintaining Social Distances
Every person who is in the center is required to maintain at least a 1 meter between each other.
7.) Protective Gear & Shield
We will be using protective gears such as masks, face shields, and equipment shields during examination and any tasks that requires to be in close contact with clients.
8.) Regular Disinfection of Center
We will be disinfecting our center 3 times per day. Every frame that are tried on will be wiped and disinfected. Surfaces in store will also be wiped down frequently.
9.) Contact-less Payment
We will provide and encourage the use of various contact-less payment methods available such as Touch n Go, Boost, Maybank QRPAY, Credit Card Wave, Online Transfer ETC. Such method reduces the contact and thus can help lower risk of spread.
10.) Avoid Coming In Big Groups When Visiting
We advice against visiting our center in big groups. Ministry of Health recommends to only allow ONE person to accompany people who need assistance when visiting such as elderly and kids.
11.) Shorter Operating Hours
We will shorten our operating hours and will open from 10:30am to 6:00pm for the time being. Special arrangement can be made via appointment for those who cannot visit during our normal hours.
While some of the steps might sound troublesome to some people, we strongly believe that it's necessary to curb the spreading of this deadly virus. We always put the safety of our clients before anything else when deciding on these safety measures, therefore, we sincerely hope for your understanding!
Besides the above steps, we will still be providing additional services as listed in this post as a supplementary to the services we provide in store.
Let's all be united and do our part. Together, we will overcome this pandemic!